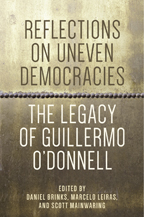 The third wave of democratization produced a wealth of enduring social science. Beginning in the 1970s, it prompted scholars to develop important theories on authoritarian breakdowns and transitions to democracy. No one in the field was more influential than Guillermo O'Donnell (1936–2011), whose pathbreaking work shaped the scholarship of generations of social scientists.
Reflections on Uneven Democracies honors the legacy of O'Donnell's research by advancing debates related to his work on democracy. Drawing together a veritable Who's Who of eminent scholars—including two of O'Donnell's closest collaborators, Philippe Schmitter and Laurence Whitehead—the volume examines issues related to democratic breakdowns and stability, the nature and quality of new democracies, institutional strength, the rule of law, and delegative democracy.
This reexamination of some of the most influential arguments about democracy of the past forty years leads to original approaches and insights for a new era of democracy studies. Students of democracy and institutional performance, both Latin Americanists and comparativists more generally, will find this essential reading.