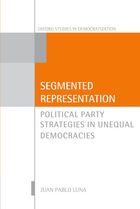 La presentación del libro 
Segmented Representation. Political Party Strategies in Unequal Democracies, 
de
Juan Pablo Luna
y editado por Oxford University Press tendrá lugar el lunes 
21 de julio a las 18:00 en la Sala Bauzá 
de la sede central de la Universidad Católica del Uruguay (Av. 8 de octubre 2738).
Los comentarios estarán a cargo de Daniel Chasquetti (Instituto de Ciencia Política, Universidad de la República)  y Juan Bogliaccini (Departamento de Ciencias Sociales y Políticas, Universidad Católica del Uruguay).
Autor: Juan Pablo Luna
Editora: Oxford University Press
ISSN: 978-0-19-964264-9
Sobre el libro:
New methodological tools used to describe party-voter linkages

New analytical framework developed to understand party-voter linkages
Millions of enfranchised people live in abject poverty in democracies around the world. Yet in representative democracies, the success or failure of political parties rests on their ability to effectively engage voters. In today's highly unequal and individualized societies, the diversity of voters along socioeconomic, religious, and other lines presents an obstacle for parties vying for electoral success. How, then, can widespread, crushing poverty still exist in stable democracies, if every citizen has a vote? Two wildly different parties, Chile's right-wing UDI and Uruguay's left-wing Frente Amplio, have achieved stunning victories in this supposedly inhospitable political landscape. They have done so by simultaneously segmenting and strategically harmonizing their linkages to distinct cross-sections of voters in each society. While that electoral strategy makes for a winning hand for parties in fragmented modern societies, it perpetuates the gross inequalities that characterize the social, political, and economic landscapes of the developing democratic world. This book develops a new analytical and conceptual framework to unveil and explain segmented representation, revealing new implications for democratic societies.
Oxford Studies in Democratization is a series for scholars and students of comparative politics and related disciplines. Volumes concentrate on the comparative study of the democratization process that accompanied the decline and termination of the cold war. The geographical focus of the series is primarily Latin America, the Caribbean, Southern and Eastern Europe, and relevant experiences in Africa and Asia. The series editor is Laurence Whitehead, Official Fellow, Nuffield College, University of Oxford.